教員情報詳細
---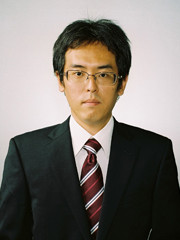 氏名

稲井 誠(INAI Makoto)
出生年月

1981年8月
所属・職名

薬学部薬学科(医薬品製造化学分野) 講師
薬学研究院(医薬品製造化学研究室) 講師(兼務)
電話番号

054-264-5741
部屋番号

薬学部棟6511号室
Eメールアドレス
ホームページアドレス(URL)
---
学歴
2004年3月 徳島文理大学薬学部薬学科卒業
2009年3月 静岡県立大学大学院薬学研究科修了
---
学位
博士(薬学)(静岡県立大学・2009年)
---
専門分野
有機合成化学、医薬化学
---
担当科目
有機化学Ⅱ (機器分析)、有機化学Ⅲ、有機化学Ⅳ、化学系薬学実習、総合薬科学研究、基礎・医用工学実習
---
主要研究テーマ
生物活性を有する天然物有機化合物の合成
天然物の生合成経路解明を目的とした機能性分子の創製
有用な新規合成反応の開発
---
所属学会
日本薬学会
有機合成化学協会
---
主な経歴
2009年4月 上原記念生命科学財団 海外留学ポストドクトラルフェローシップ研究員(コロラド州立大学 Robert M. Williams 研究室)
2010年4月 徳島文理大学薬学部 博士研究員
2011年4月 徳島文理大学薬学部 助教
2011年9月 静岡県立大学薬学部 助教
2016年10月 静岡県立大学薬学部 講師
---
主な社会活動
次世代を担う有機化学シンポジウム 世話人
---
主要研究業績
"Optically Active 2,7,10,15-Tetrahydroxytetraphenylene: Clathrates with Both Enantiomers of 1-Phenylethylamine and Their Stability" Eur. J. Org. Chem. 2018, 48, 6991–6999.
"A role of uroleuconaphins, polyketide red pigments in aphid, as a chemopreventor in the host defense system against infection with entomopathogenic fungi" 2018, 71, 992–999.
"Synthesis of double-13C-labeled imidazole derivatives" Tetrahedron Lett. 2018, 59, 3516–3518.
"Concise synthesis of polymethoxyflavone sudachitin and its derivatives, and biological evaluations" Tetrahedron Lett. 2018, 59, 1816–1818.
"Total synthesis of natural products using a desymmetrization strategy" Tetrahedron Lett. 2018 59, 1343–1347.
"An efficient screening method for purifying and crystallizing membrane proteins using modified clear-native PAGE" Anal. Biochem. 2018, 548, 7–14.
"N-Glucosides of Fairy Chemicals, 2-Azahypoxanthine and 2-Aza-8-oxohypoxanthine, in Rice" Org. Lett. 2018 20, 312–314.
"Total Synthesis of TAN1251C via Diastereoselective Construction of the Azaspiro Skeleton" Org. Lett. 2017 19, 3839–3842.
"Synthetic Study on Pactamycin: Stereoselective Synthesis of the Cyclopentane Core Framework" Org. Lett. 2017, 19, 3358−3361.
"Divergent synthesis of kinase inhibitor derivatives, leading to discovery of selective Gck inhibitors" Bio. Med. Chem. Lett. 2017, 27, 2144-2147.
"Insulinotropic and anti-apoptotic effects of nobiletin in INS-1D β-cells" J. Funct. Foods 2017 30, 8–15.
"Synthesis of chemical-biology tools enabling in vivo imaging and analysis of epigallocatechin gallate." Heterocycles 2016, 93, 218–242.
"Stereospecific Construction of 2-Vinyl 3-Hydroxybenzopyrane Rings: Total Synthesis of Teadenol A and B" Org. Biomol. Chem. 2016, 14, 10783–10786.
"Concise Synthesis of Anserine: Efficient Solvent Tuning in Asymmetric Hydrogenation Reaction" Synlett 2016, 27, 2734–2736.
"Practical synthesis of spermine, thermospermine and norspermine" Chem. Pharm. Bull. 2016, 64, 1403–1407.
"Practical Total Syntheses of Acromelic Acids A and B" Chem. Pharm. Bull. 2016, 64, 723–732.
"Synthesis of food effective constituents toward the development for chemical biology investigations" J. Syn. Org. Chem., Jpn. 2016, 74, 412–425.
"SYNTHESES OF METHYLATED CATECHINS AND THEAFLAVINS USING 2-NITROBENZENESULFONYL GROUP TO PROTECT AND DEACTIVATE PHENOL" J. Antibiot. 2016, 69, 299–312.
"Applications of C–H Insertion Reaction in Total Synthesis of Biologically Active Heterocyclic Natural Products" Kan, T.; Asakawa, T.; Inai, M. Heterocycles 2016, 92, 31–43.
"Ecteinascidins. A Review of the Chemistry, Biology and Clinical Utility of Potent Tetrahydroisoquinoline Antitumor Antibiotics" Nat. Prod. Rep. 2015, 32, 328–347.
"Stereocontrolled Total Syntheses of Optical Active Furofuran Lignans" Synthesis 2015, 47, 3513–3521.
"Isolation and total syntheses of cytotoxic cryptolactone A1, A2, B1 and B2: α,β-unsaturated δ-lactones from the aphid Cryptomyzus sp." J. Nat. Prod. 2014, 77, 2459−2464.
"Total Syntheses of (+)-Sesamin and (+)-Sesaminol" Chem. Lett. 2014, 43, 1572–1574. [Editor's choice and open access article]
"Practical synthesis of natural plant-growth regulator 2-azahypoxanthine, its derivatives, and biotin-labeled probes" Org. Biomol. Chem. 2014, 12, 3813–3815.
"Stereocontrolled total synthesis of Hedyotol A" Org. Lett. 2014, 16, 1980–1983.
"Practical Total Synthesis of Acromelic acid A and B" T. Org. Lett. 2014, 16, 1976–1979.
"Total Synthesis of (–)-SB-203207" Org. Lett. 2014, 16, 1646–1649.
"Practical Synthesis of Kainoids: A New Chemical Prove Precursor and a Fluorescent Probe" Org. Lett. 2014, 16, 564−567.
"Synthetic study of Flavonoid and its Chemical Probes" Heterocycles 2014, 88, 1371–1396.
"A Method to Prepare Optically Active Acyclic alpha-Benzylketones by Thermodynamically Controlled Deracemization" Eur. J. Org. Chem. 2013, 8208–8213.
"Stereocontrolled total synthesis of sphingofungin E" Eur. J. Org. Chem. 2013, 6789–6792.
"Chemoselective Hydrogenation Reaction of Unsaturated Bonds in the Presence of o-Nitrobenzenesulfonyl Group" Org. Lett. 2013, 15, 1306–1309.
"Xanthouroleuconaphin: a yellowish pigment from the aphid Uroleucon nigrotuberculatum and its total synthesis" Tetrahedron 2013, 69, 1808–1814.
"Synthesis of Theaflavins via Biomimetic Oxidative Coupling Reaction" Synlett 2013, 24, 479–482.
"Catalytic Desymmetrization of Cyclohexadienes by Asymmetric Bromolactonizatio" Org. Lett. 2012, 14, 6016–6019.
"A Total Synthesis of Yellowish Aphid Pigment Furanaphin through Fries Rearrangement Assisted by Boron Trifluoride-Acetic Acid Complex" Synlett 2012, 23, 1789–1792.
"Construction of an Asymmetric Quaternary Carbon by Asymmetric Aza-Claisen Rearrangement and its Application to a Total Synthesis of (+)-alpha-Cuparenone" Tetrahedron: Asymmetry 2012, 23, 739–741.
"Megouraphin Glucoside: Two Yellowish Pigments from the Aphid Megoura crassicauda Mordvilko" Heterocycles 2012, 85, 95–101.
"Promotion of Asymmetric Aza-Claisen Rearrangement of N-Allylic Carboxamides Using Excess Base" Synlett 2011, 2967–2970.
"Viridaphin A1 Glucoside, a Green Pigment Possessing Cytotoxicity and Antibacterial Activity from the Aphid Megoura crassicauda Mordvilko" J. Nat. Prod. 2011, 74, 1812–1816.
"Total Synthesis of (+)-Brefeldin C utilizing aza-Claisen Rearrangement" Synlett 2011, 1459–1461.
"Total Synthesis of (+)-Antimycin A Family" Eur. J. Org. Chem. 2011, 2719–2729.
"PET Imaging Investigation of Nobiletin Based on a Practical Total Synthesis" Chem. Commun. 2011, 47, 2868–2870.
"Synthetic Studies on Palau'amine Construction of the Cyclopentane Core via an Asymmetric 1,3-Dipolar Cycloaddition" Tetrahedron Lett. 2010, 51, 6557–6559.
"A facile and practical method of preparing optically active α-monosubstituted cycloalkanones by thermodynamically controlled deracemization" Tetrahedron 2010, 66, 9450–9455.
"Solid Support Synthesis of Artificial Phospholipids" Synlett 2009, 3373–3374.
"Concise Synthesis of Chafurosides A and B" Org. Lett. 2009, 11, 2233–2236.
"Identification and characterization of flavonoids as sialyltransferase inhibitors" Biochem. Biophys. Res. Commun. 2009, 609–613.
"Stereocontrolled total synthesis of (–)-myriocin" Tetrahedron: Asymmetry 2008, 19, 2771–2773.
"A Practical Total Synthesis of (+)-Antimycin A9" J. Antibiot. 2007, 60, 65–72.
---
教育・研究に対する考え方
研究を進める上では、刻々と変わる状況を常に客観的に見極める観察力,粘り強く問題に立ち向かいそれを解決する実行力が必要です。天然物合成は、学生の知識,行動力を養うために最適の研究分野の一つであると考えており、これらを基盤として優秀な薬剤師,研究者の輩出に貢献したいと考えています。
---
研究シーズ集に関するキーワード
天然物全合成,アルカロイド,ポリフェノール,カテキン,ケミカルプローブ
---